Software Sales Manager Compensation Plan Template
This document is designed for a Software Sales Manager. It includes Base Pay, Sales Compensation, Other Compensation, Software License Sales Commission, Software Sales Override Commission. In addition it discusses President's Club, Draw, Cap, Termination of Employment and other terms and conditions.
Kindly fill-in the below form to get Agreement Templates
Template Preview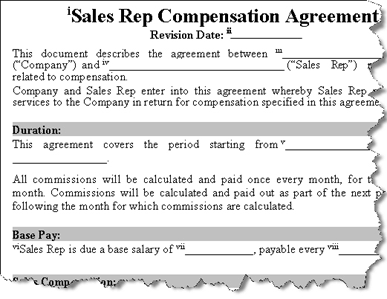 Sales Manager Compensation Agreement
Revision Date:____________

This document describes the agreement between _____________________________ ("Company") and _________________________________ ("Payee") regarding terms related to compensation.
Company and Payee enter into this agreement whereby Payee provides services to...