Sample Direct Sales Rep Compensation Plan Template
This document is designed for "Direct Sales Rep". It is useful in a lot of different industries. It includes Product Sales Commission, New Accounts Incentive, Annual Regional Bonus and President's club types of incentives. It also includes other terms and conditions.
Kindly fill-in the below form to get Agreement Templates
Template Preview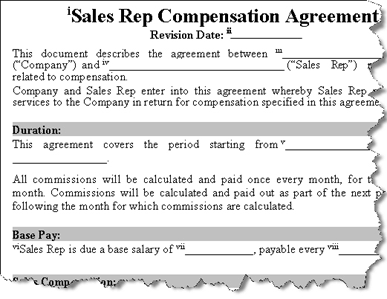 Direct Sales Rep Compensation Agreement
Revision Date: ii____________

This document describes the agreement between between iii_____________________________ ("Company") and iv_________________________________ (Sales Rep) regarding terms related to compensation.
Company and Account Exec enter into this agreement whereby Account Exec provides sales services to the Company in return for compensation specified in this agreement.