Sample Consulting Sr Account Manager Compensation Plan Template
This document is designed for a Consulting Firm - Sr Account Manager. It includes Gross Profit Commission, Quota based Revenue Commissions with tiered rates. In addition it discusses Draw, Cap and other terms and conditions.
Kindly fill-in the below form to get Agreement Templates
Template Preview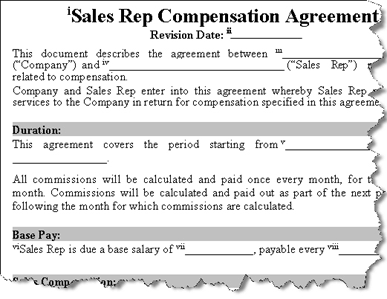 Consulting Industry Sample Sr Account Manager Compensation Plan Template
Revision Date: ii____________

This document describes the agreement between between iii_____________________________ ("Company") and iv_________________________________ ("Payee") regarding terms related to compensation.
Company and Account Exec enter into this agreement whereby Account Exec provides sales services to the Company in return for compensation specified in this agreement.